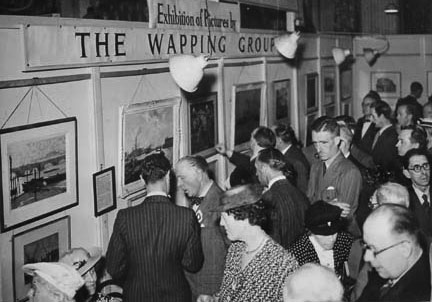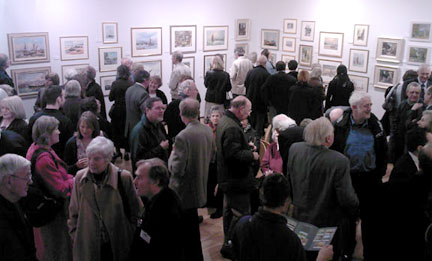 The Wapping Group of Artists 75th Annual Exhibition 2022
The Mall Galleries, 7th February - 13th February 2022
Opening Times: Monday 7th February - Saturday 12th February 10am – 5pm, 
Sunday 13th February 10am – 4pm
Evening event for 2022: the Book Launch
Late opening Wednesday 9th February 6 - 8pm. Admission free.
Join us for a celebratory glass of wine for the formal launch of the Wapping Group's 75th anniversary book,"A Changing View". Come along to chat to some of our artists, maybe get them to talk about their contribution to the book ( which has been very much a group effort). This is also your ideal opportunity to pick up a copy of the book at just £27.50, saving the usual £ 5.25 post and packing charge.
The Wapping Group meets every Wednesday between April and September to paint outdoors at locations in London and along the river Thames. The annual exhibiton at the Mall Galleries SW1 is a delightful exploration of London and its river - and the year's weather - as experienced by this unique group of artists. There are over 120 works in various media, all for sale.
Below are some of the paintings that will feature in the exhibition. For sizes, prices and sales contact The Mall Galleries on 020 7930 6844 www.mallgalleries.org.uk

View some of the 2022 Exhibition paintings here
View some of the 2020 Exhibition paintings here
View some of the 2018 Exhibition paintings here
View some of the 2017 Exhibition paintings here
View some of the 2016 Exhibition paintings here
View some of the 2015 Exhibition paintings here
View some of the 2014 Exhibition paintings here